Planning your successful journey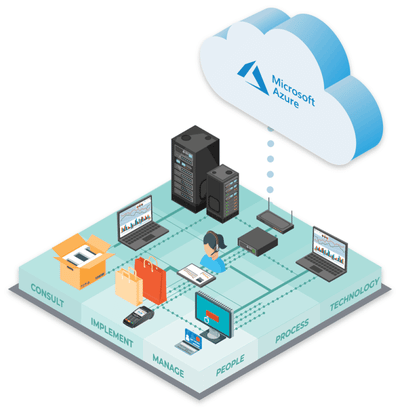 Infrastructure, either SAP or other databases and applications, can help us to understand the behaviours of our customers.
Trying to keep an estate evolving, so it can manage the changes within markets and the influx of constant streams of data, is not easy. There are many different roadmaps to consider. If your infrastructure, either SAP or another provider, causes you to constantly firefight, then this won't leave you time to be proactive and plan your innovation journey.
In an ideal world, you'll want to use innovation to help optimise your technology. You'll want to improve reliability and reduce the risk of outages. That, and improving your CapEx to OpEx, in order to reduce costs and optimise budgets. Creating this stability helps reduce time spent on reactive IT tasks, which in turn, gives us more time to concentrate on innovation.
Innovate & Optimise
To innovate, organisations have to achieve the significant transformation that causes successful, positive change. It can be a real challenge to break the problem down and to also tackle it in an effective way. The traditional IT pillars of people, process and technology are being mixed with an agile approach, that also incorporates automation. Companies have found this is really opening up new doors to creative solutions to overcoming problems.
Automate
Automation is a big change in this newly formed agile world. It can take a lot of varying skills and dedication to implement. However, the benefits increase productivity, consistency, responsiveness, quality, compliance, flexibility, as well as reducing costs. Finding a trusted partner who can help build an agile environment for your organisation, can help relieve the pressure and allow you to concentrate more on innovation and optimisation.
Delivering beyond your customer's expectations
Centiq have worked with many organisations to help innovate environments that have an agile approach, with a heavy lean on automation. Testing, feedback loops and the evolution of products and services are key drivers to developing successful processes. Digital transformation demands new skills that incorporate agile and DevOps, alongside automation, and Centiq have worked to hone and test these skills for your benefit.
Working with a trusted partner that can help you build out a good innovative foundation, will increase the stability of your SAP HANA, S/4HANA, or non-SAP infrastructure. You'll be able to think proactively in your approach to problem solving, rather than reactively firefighting. This in turn will allow you to deliver beyond your customer's expectations, as you have time to digitally transform your business efficiently.
So how can HANA accelerate digital transformation?
Migrating to SAP S/4HANA gives you a real-time, single source of truth for your business data. Moving from simplified legacy systems, to digitised core processes offer efficiency. Connect data to transactional processes and drive growth and innovation. With SAP S/4HANA, you are able to make more informed decisions faster. Your success is our drive.
But getting there can be costly and complicated. That's how Centiq can help.
From an initial assessment to help make your business case, we designed our Centiq Discovery session. Created to accelerate deployment based on our expert experience, Centiq puts you in control of your digital transformation.