We are delighted to be awarded the SME Best Platforms Design & Management Company in Europe. The team are immensely proud to be recognised by our customers and partners for this award with all the excellent projects and services we have delivered over the last 3 years.
We are increasing our investment in our innovation and thought leadership focused on SAP on Azure automated solutions which include as a Microsoft partner, contributing to core SAP on Azure source code in GitHub for all Azure customers.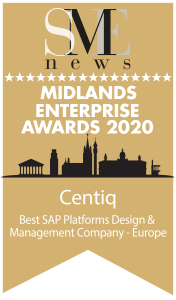 Our services can and do make a significant impact for SME based organisations in simplifying, automating and accelerating the digital transformation of businesses. Now more than ever we need to help Customers to adapt, adopt and accelerate value in their digital transformation to increase the responsiveness and insights from applications and data. We leverage our significant expertise and industry experience to successfully deliver projects whilst enabling updated and highly responsive and flexible platforms which align to your changing business needs. This award reflects our complete commitment to helping Customers with our continually updated portfolio of innovative services which cost-effectively supports low risk and cost business change. Here's to the next 12 months and helping many more SME Customers to recover and accelerate their business growth and to provide the highest level of Customer support to their Cloud journeys. All winners will be published 19th October here.