Centiq earns highest SUSE Solution Partner certification, bolstering best-in-class enterprise cloud application migration and implementation expertise for SAP projects
The independent SUSE expert now ranks as the number one SAP HANA and S/4HANA reseller within the UK and Ireland.
LONDON, United Kingdom – Nov. 28, 2019 – SUSE® is proud to announce that trusted partner, Centiq, has earned the highest partner tier in the SUSE Partner Program, becoming a Solution Partner for SUSE Linux Enterprise Server for SAP, thereby solidifying its place as the leading reseller for SAP HANA and S/4HANA support within the UK and Ireland. With this accolade, Centiq is well placed to help organisations realise their cloud potential and guide them through the often-complex S/4HANA migration process.
Achieving this highest level of accreditation in the SUSE Partner Program showcases Centiq's on-going commitment to providing its SAP customers with first-class, strategic, consultation, migration and implementation as well as investing in employee development. . Centiq's consultation extends well beyond helping companies migrate business applications. It also focuses on empowering businesses to enact cultural change by reviewing current business working practices and processes, using years of hands-on experience to define client requirements and recommend the approach which enables the business to achieve optimal results with SAP HANA.
"More businesses are turning to SAP to unlock data intelligence, drive innovation and deliver agility," said Matt Eckersall, Regional Director, EMEA North at SUSE.

"Yet migrating large business applications to the cloud can bring challenges. To do it successfully, businesses need to consider how they're going to design and deliver large migrations for complex enterprise requirements. Not only does this take technical and organisational change, it can require a shift in the business mindset. That's why we're thrilled to have a new SUSE Solution Partner like Centiq reach this milestone – bolstering their experience and trusted best practice advice with an accreditation that recognises their expertise. Customers can turn to Centiq for unrivalled advice and support as they look to run SAP in the way that best suits their business."
The SUSE certifications earned by Centiq's employees will support Centiq's investment in automation strategies, and will empower their clients to be more agile, providing them with the ability to create a service driven culture and quickly adapt to changing business requirements.
"Continual learning is a key priority for the entire Centiq team," said Matt Lovell, CEO of Centiq.

"We're thrilled that through this accreditation as SUSE Solution Partner, we're able to expand our offering to not only support SAP HANA but also improve our skills in. Our finger is on the pulse of the industry, and we're looking to use our skills to provide long-lasting opportunities and support for our clients."
For enterprises, the SUSE certification provides confidence that partners, like Centiq, can deliver best in class enterprise-grade, open source software-defined infrastructure and application delivery solutions backed by superior expertise. Centiq works with SUSE to improve the consistency, frequency and economy of Linux updates. Linux experts within Centiq also help provision cloud migration and management for customers' infrastructure.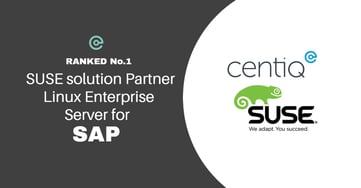 About SUSE
SUSE, the world's largest independent open source company, powers digital transformation with agile, enterprise-grade open source solutions, edge to core to cloud. Collaborating with partners, communities and customers, SUSE delivers and supports enterprise-grade Linux, software-defined infrastructure and application delivery solutions to create, deploy and manage workloads anywhere – on-premises, hybrid and multi-cloud – with exceptional service, value and flexibility. For more information, visit www.suse.com