CIOs face exciting, but also quite challenging times.
Rapid technology evolution has changed expectations for enterprise IT. Organisations must now manage large technology changes and increasing demands from customers, delivering faster and at a lower cost.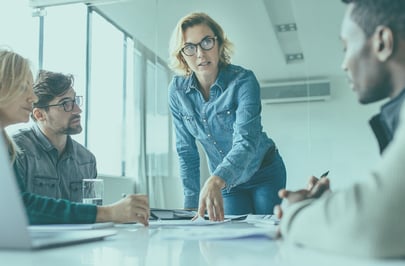 CIO's top cloud agenda items
Working with numerous CIOs and technology leaders we've found that their top agenda items tend to fall into three major areas:
Security
No organisation wants to be in the news for a data breach or cyber attack. Among all of a CIO's challenges, this has the potential to majorly harm a business, perhaps even with legal implications.
Uptime
Your infrastructure is only as good as you make it. Migrating to a new platform with a lift 'n' shift approach will undoubtedly restrict you from the fast and agile landscape you planned for. When processes stay the same as your previous platform set up, the potential for downtime will become higher. This means your IT team will continue to firefight. CIO's ultimately face an increase in mistrust and frustration from customers, as services begin to fail.
Cost
While security and uptime are two main drivers, the cost is still a significant factor in most enterprises, sometimes running into billions of dollars. Many CIOs face a common theme of "Doing more with less". They also look to embrace new capabilities, while at the same time reducing operational expenses.
Transforming your cloud migration into a success
Naturally, CIO's are drawn to the cloud
The cloud brings great benefits with it, when used effectively. By transforming processes to suit a newly implemented cloud platform, whether it be Microsoft Azure or AWS, CIO's and IT teams benefit from a quick and agile landscape. Costs are reduced, as platform fire fighting turns to a proactive outlook and drives the ability to plan, rather than constantly manage. A proven successful style of working to harness this culture is by implementing a DevOps approach. DevOps allows teams to work cross-functionally with other teams, developing automated processes across infrastructure for agility.
Accelerating go-to-market, reducing IT costs and improving data security
Centiq use a DevOps approach to drive automation of processes across platforms.
By incorporating automation, CIO's and IT teams accelerate their go-to-market, reduce IT costs by thousands, sometimes millions and improve overall data security. Centiq are experienced with working alongside IT teams to develop successful automation, giving your IT team more time to plan for the next iteration. Taking the pain away.
Trusting the detail of cloud migration to an expert
It can be daunting to implement a cloud migration project.
If designed incorrectly, CIO's and IT teams could face increased downtime and rising costs. Working with a trusted partner helps ease the transformation. Centiq are often asked questions from: should we go Azure or AWS? To: why is our cloud infrastructure expensive and running slowly? Working with customers we help them plan their journey intrinsically. Centiq have developed a blueprint approach that covers the project lifecycle phases of: Define, Design, Build & Run. This blueprint approach details mapping the current landscape and needs, to deployment and then management.
Read more about Centiq can help you with cloud consultancy.
Reducing downtime and delivering success
This is our passion.
Helping our customers to build a cloud infrastructure, successfully, with as little downtime as possible. We want your infrastructure to work around you. Developing efficient processes that work for your IT team, your business strategy and most importantly, your customers.
If you're interested to find out more, from which vendor to choose, to how to define your processes going forwards, reach out to us. We're more than happy to help.