SAP's vision is S4/HANA and C4/HANA as a way to provide accelerating business change, manage data and more closely integrate together enterprise applications, business processes and clouds.
I continue to meet really impressive, highly experienced IT professionals who are new to the world of SAP.
For me this represents a great addition to our world at a time when accelerating change and doing things differently is paramount.
Let's start with the foundation
In this first Blog, I thought I would start with the Foundational knowledge of SAP to get the building blocks defined. There are 3 areas to understanding the basics of SAP. There is a Database or Databases, there are Applications (SAP refers to these as Components) and finally there are processes and interfaces. SAP stores information in the database, applications access this via NetWeaver and ABAP which have been developed with specific processes to deliver defined outcomes. There can also be customer specific processes and interfaces which link SAP and Non SAP systems together to work in any organisation. It is important to recognise implementing SAP ECC is large project for any business. Changing and upgrading these over time is incredibly complex whilst simplifying such complexities to work in a more Agile way, given criticality and integrated business processes can initially appear daunting.
SAP data can be stored in the Database which can be Oracle, Microsoft SQL, IBM DB2, Sybase, MySQL and SAP HANA (the In-memory version). The problem we face is that SAP has to collate, manage, process and report on an increasing amount of data and increasingly in real time or low latency business requirements.
Most companies are seeking to have a complete customer perspective or Omni-channel experience across all platforms they interact with customers (Internet client, mobile application, In-store) as well as attracting and influencing (on a wide variety of platforms and formats). Most Databases have been relational and structured and have served SAP applications well. Most organisations now process increasing volumes of unstructured customer data, in real time and need to provide a holistic experience closely integrated to fulfillment.
Putting the customer at the center of everything
The outcome is delivering the very best user and customer experience. To address the increasing amounts of data with increase demand for real time analysis and processing, SAP launched the HANA (In-memory database) version in 2010. In-memory databases are much faster and store data differently to address previous limitations to deliver an enhanced real time user experience.
However, to maximise the benefits of a faster database, it is also necessary to update SAP Components (Applications) accessing the data and corresponding SAP business processes. The core SAP ERP application is known as ECC (ERP Central Component) and it is the 1st component of the SAP Business Suite. In total there are 10 core components and 2 technical components in ECC which include Customer Relationship Management (SAP CRM), Supply Chain Management (SAP SCM) and Sales & Distribution (SAP SD).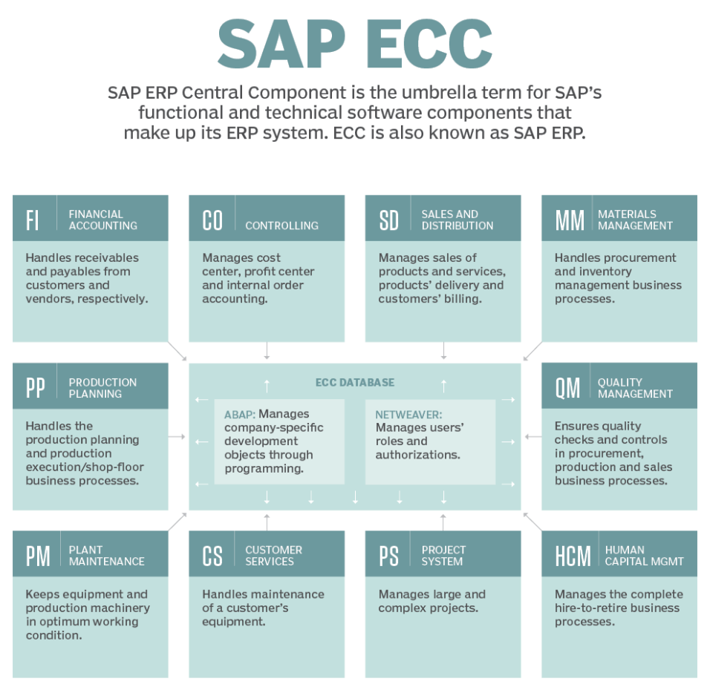 Source: TechTarget 2018
There are SAP Functional Components which support more industry specific requirements. Each component must be purchased, licensed, implemented and integrated to maximise the capabilities, analytics and process flows in any organisation. With two mandatory technical components which are NetWeaver (provides SAP ECC system administration capabilities including user security, roles and authorisations) and ABAP (Advanced Business Application Programming) which is the default programming language for SAP components.
A portfolio of differentiating services optimised for that specific company's circumstances
The third area of focus is business processes and integration. Inevitably over time, business processes are updated and modified, new processes and systems are added, processes to address gaps and interface requirements are updated and business requirements evolve. SAP typically is at the heart of a business so invariably there are significant numbers of processes involved and interconnected.
Newer SAP platforms such as SAP S/4HANA which is the updated version of ECC, supports significantly greater levels of SAP component process automation and consolidation. This simplifies and accelerates data processing and analytics and ultimately the customer experience.