SAP Extends Its Innovation Commitment for SAP S/4HANA®, Whilst Providing Clarity and Choice on SAP® Business Suite 7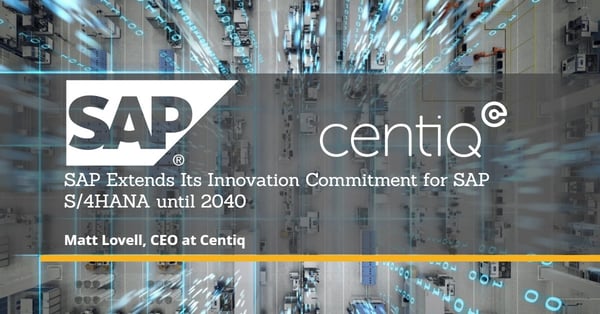 Good news and reassurance came from SAP's Christian Klein yesterday, confirming and clarifying several key commitments. Firstly, SAP has confirmed their commitment to support SAP S/4HANA until December 2040. Which brings reassurance for customers considering and/or building the business case for SAP S/4HANA now or over the next 2 years.
More notable was the additional SAP commitment to provide mainstream maintenance and core application support until December 2027. But there is optional extended maintenance for those customers engaged in migration up to December 2030.
Guidance around SAP Business Suite 7 support can be found here. This is helpful for those seeking to understand how different SAP releases relate to the core SAP products and NetWeaver.
With varying support for SAP Business Suite 7 now an option, the move to SAP S/4HANA shouldn't be struck off the agenda. The move is no small undertaking for any business, and experience of proven, real-life engagements are in demand. At Centiq we have worked with several customers to deliver the S/4HANA and B/4HANA migrations, achieving business benefit through using core business processes and encouraging the adoption of an updated Operating Model.
You can read more about the benefits delivered for Thames Water here.
Ahead of the curve?
Those customers who have or who are implementing S/4HANA, will know this takes considerable time and organisational resource to plan, execute and continually evolve.
Benefits such as a simplified platform, business processes, data interfaces and supply chains are all highlighted as components of the next generation, Intelligent Enterprise.
By focusing on accelerating time to value and innovation, S/4HANA forces organisations to truly reflect on their business processes, current mindset, and outdated ways of working to realise the benefits of a modern ERP and ensure the continued growth and evolution alongside the needs of your business.
Time for reflection
For customers wishing to remain on R/3 or not to migrate to SAP HANA, there is a wide and trusted ecosystem of 3rd party partners available to support you to 2030 and beyond. Decisions will come down to whether the benefits and innovation enabled in migrating to S/4HANA outweigh the limitations in any digital transformation in maintaining SAP ECC on anyDB with current processes. The cost of switching to alternative non SAP edge or 3rd party applications needs to be given careful consideration especially with the additional 2% maintenance premium SAP have identified will be incremented to existing agreements if customers do not have access to the latest SAP functionality and/or versions.
SAP has taken the stance of extending commitments for a sensible amount of time to allow customers to plan accordingly. Closer to these revised dates, the limiting factor is unlikely to be SAP or continued maintenance but available digital functionality, integration capabilities and processes within a business operating with previous versions of SAP software!
Matt Lovell, CEO
Full details of the announcement can be found here: SAP S/4HANA® Announcement
Our customers can make long-term yet flexible plans to meet their fast-changing business demands backed by the security of the most innovative business platform.
Even if a customer is unable to move to SAP S/4HANA in the next two years, we'll work with them to get there in the next decade.
Michael Kleinemeier, member of the Executive Board of SAP SE, SAP Digital Business Services Full interview here.