Optimise SAP HANA
Being able to unlock this data gives you the opportunity to identify trends, plan and deliver actionable insights. It allows you to drive your business forward to new heights and keep ahead of the digital transformation game.
In the past, it's been difficult for organisations to gain real-time visibility, especially if the business deals with large transactional volumes. Businesses tend to firefight with their database, leaving them short of time to optimise and innovate. By not developing these innovation opportunities, businesses are stuck in a continuous loop of fixing things.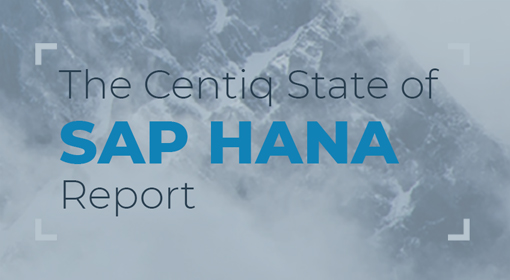 Blogs: Innovate with SAP HANA Latest Report: 2018 State of HANA Report
A trusted partner with a proactive approach
Centiq has found that when organisations migrate to an SAP S/4HANA landscape, doors are opened. Being able to work with real-time data helps keep businesses in a stable position, giving them a chance to deliver and grow, not only to their customers but also external expectations.
Combined with a trusted partner, organisations are able to take a proactive approach to their business case. The pain is taken away, as skill gaps are filled and expertise utilised.
Centiq was involved in the first SAP HANA migration in the UK and has continued to be a strong partner since 2011. Having gathered a wealth of knowledge and expertise over the last several years, Centiq is confident in flexibly joining customer's teams and driving success.
By linking with a trusted partner, your SAP HANA journey will have a significantly improved proactive approach. You'll be able to combine your own knowledge with a team of experts who passionately believe in the optimisation, automation and innovation of SAP HANA.
Understanding, building, running and enabling SAP HANA doesn't have to be painful, it can be a beneficial, learning journey.