CIOs are a key part of IT transformation within a company.
They face challenges in keeping the business up-to-date with technological innovation and digitalisation. Many CIOs will want to move past the IT experimentation stage, to guarantee project results. However, they will also want to initiate firm best practices of technical digitalisation, in order to improve governance and security. Another aim for a CIO, is to establish their team as innovators, rather than purely enablers. They may harness this by focusing on a contemporary outcome, that suits the business' and their customers' needs.
Reducing project delays and supporting your IT team
As the CIO, or equivalent, you may face many challenges.
Often, making sure IT teams are able to keep up-to-date with digital transformation, requires the correct skill sets within the team. Gaps in resources, especially during huge transformations, such as an S/4HANA or cloud migration, can mean incorrect designs, delays in deployment and cost increases. Alongside this, issuing the correct certifications, whether it's for SAP or a cloud vendor can also be time-consuming and costly.
The most effective ways to keep your customer happy
Customer's expectations of IT capability has increased dramatically over the last several years.
Organisations are expected to be able to do a significant amount and in real-time. As a CIO, being able to keep up with these demands are a top concern. IT also need to enable landscapes to run efficiently, but also consider the company's growth and direction. Because of this, not everything will be about huge transformations for a CIO. Whilst larger projects can be disruptive to operational changes, many organisations simply do not have the scope. However, keeping up with the demand of customers and managing a current landscape can be a brilliant opportunity to implement automation. There are many thousands of processes within an IT landscape. All of these processes need careful management, considerations, testing, security, and governance.
What do you want to achieve?
Centiq have recognised these issues for CIOs for many years.
We've always made it our mission to help ease companies through their digital projects. Skills and certification gaps can be hard to fill, especially with additional costs and waiting for acquisition of these skills, or even regional efforts. Working with a trusted partner who already have these skills and certifications can help fill these gaps quickly. Centiq have a team of consultants with SAP HANA, S4/HANA, Linux (Red Hat and SUSE) and Cloud skills. We work with multiple vendors, to make sure you have the set up that suits your needs. Whether, it's Dell, SUSE or Red Hat, Microsoft Azure or AWS etc.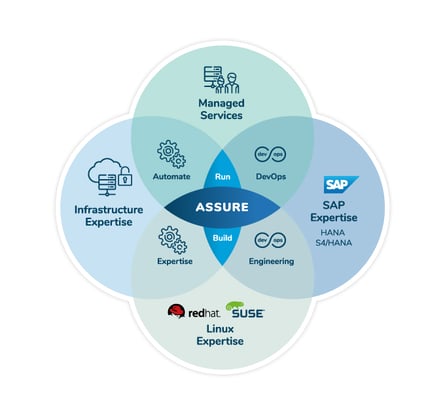 See what we do with the cloud.
Tightening security and accelerating go-to-market
Automation of processes, whether it's for a large migration project or the management of a current landscape can bring many benefits to organisations.
Centiq believes it heightens the increase in security. Organisations that have heavy governance across their data sets and processes, save time and energy with implementation and testing. Centiq believes in working alongside organisations to help them achieve their automation goals. We work to a Define, Design, Build, & Run approach, mapping out your current landscape, before working with you to design and implement your journey.
Can we help you achieve what you need?
Knowing where to start is the first hard step. As a team who have worked on many SAP and cloud projects, Centiq have completed a lot of the hard work for you. Furthermore, we understand the successes and the pitfalls. If you'd like to understand how you can excel your SAP and cloud infrastructure, get in touch by filling out the form below.
Our expertise
Centiq have been working with SAP applications for nearly a decade. We also worked on the first SAP HANA implementation in the UK in 2011.
Collating all of our expertise, whether it's SAP HANA, cloud, S/4HANA, or enterprise Linux, our consultants cover a huge amount of the IT infrastructure scope.
Bringing quality expertise to our customers, we work to accelerate you go-to-market. We work rapidly, reliably, and at scale.
The right partner
Your IT infrastructure is the brain of any company, every decision and investment dictates the choices for today and ambitions for the future. The problem is the range of choices is immense.
To enable you to take the strategic decisions and understand the impact, you need to work with a trusted, respected and knowledgeable partner.
Your success is our drive
We are a team of SAP HANA experts, DevOps and cloud consultants and process automation engineers who specialise in enabling our customers to do more through the integration of disparate systems to provide deeper and richer real time customer insights, understanding and data processing.
We deliver this through the expertise gained in designing, deploying, managing and optimising SAP HANA, S/4 HANA and In-memory business critical analytical outcomes for our customers over the last 7 years. We are an agile organisation and trusted advisors to all of our customers based on our real passion and specialism in SAP HANA.