Wednesday 2nd December 2020 at 8:30 am – 3:30 pm (GMT)
UKISUG have created The Digital Insights Symposium virtual event (and virtual exhibition hall) to allow you to engage and network with SAP customers and experts alike, ensuring you make new connections, benefiting both you and your company you need to attend this event.
With the current climate, unfortunately, UKISUG Connect 2020 was not viable as the event that we all enjoy each year. We have been invited to present at the event, so encourage you to Register and we hope to see you there.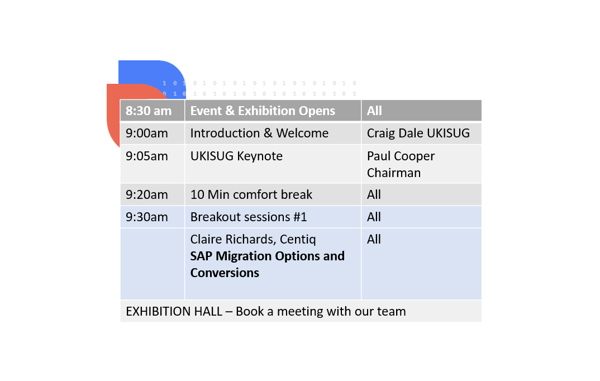 SAP Migration Options and Conversions – 9:30am Claire Richards, Solutions and Services Architect.
This session focuses on real-world examples of the strategies that customers are taking in terms of migrations to S/4HANA and the Public Cloud to drive transformation, and specific customer success stories and lessons learned
Let's start by thinking about what drives change? Simplified this can be changes to your business processes, technical change, SAP functional change or a combination of all of these. The objective is to ensure that your SAP platform and its performance is not a barrier to change. One option is to do nothing, which will inevitably see the rise and rise of technical debt and a bigger barrier to change that requires greater effort to overcome. The objective is to achieve a flexible, responsive and modernised IT platform which meets current and future business needs.
Your Journey to SAP on Hyperscale and S/4HANA may have different starting positions and goals as well as considerations as well as to how success is best achieved. Given to extended SAP support for ECC, many customers are opting for a migration to Hyperscale and possibly Suite on HANA before considering and planning for an additional step to migrate to S/4HANA. For Business Warehouse (BW), there are three principle migration conversions based on in-place, remote and shell conversion but this can be delivered independently of ECC and other SAP applications helping Customers to define their Hyperscale best practices before integrating other SAP applications.
Along with these best practices, there are some general migration and conversion recommendations which simplify, accelerate and lower risks and costs. These will be explained within the session.
If you would like to read more insights from Claire Richards take a look here.
We hope you can join the event and attend our session. Please Register here.
More topics covered at the event:
Licensing
Cloud/Hyperscalers
Financial Excellence
Optimising Your SAP
S/4HANA Customer Sessions
Automation
24 breakout sessions – full list available upon registration.
Meet Matt Jones who will be available on (virtual) stand throughout the event.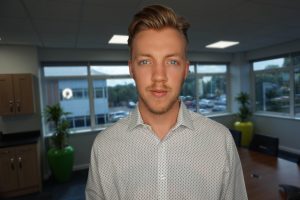 Matt Jones has been working with SAP customers in every sector since 2017, helping accelerate and sustain the transformation of their underlying SAP platform to enable their businesses to increase the ability to change, adapt and react to ever-changing market conditions. Since 2018, Matt has led some of the largest UK SAP customers on their journey to SAP on Azure, specialising in leveraging the very best of the Microsoft cloud offering.
The event will also include a Mental Health First Aid/Stress Management Session.
Visit the virtual exhibition hall where you can speak to Centiq experts on our virtual stand, network with partners, SAP and UKISUG.
About UKISUG
UKISUG is a not-for-profit independent membership organisation for all users of SAP software, and is funded and run by members, for the benefit of members. Their focus is focused on helping members learn from, network and collaborate with each other, SAP experts, SAP partners and the whole SAP community, as well as providing an independent channel through which to influence SAP.